IFAI Specialty Fabrics Expo 2013 Exhibitor Preview: Heytex
BRAMSCHE, Germany - September 2013 - For 100 years, Heytex has stood for leading quality and the most comprehensive product portfolio of technical textiles and fabrics of all suppliers on the world market. On the US market, Heytex has been successfully present for 25 years now and established Heytex Corp. in 2012 in order to continue implementation of their strategy of growth in an optimal way.

At IFAI 2013, Heytex presents highlights of their comprehensive product portfolio of sophisticated high-performance fabrics for outdoor use, containers and the energy sector, sport and fun and many other markets.

The only complete assortment: wherever coated textiles and fabrics on polyester or polyethylene basis may be used, Heytex offers an innovative solution with high-quality coatings, optimally adjusted to the respective field of application.

Heytex special fabrics are used for truck tarpaulins, but also for bellows, in ship building or as flexible container or storage tanks (e.g. containers for drinking water, gas and oil, transport containers, silo tanks, bulk material containers etc.).

In addition, they are also used in environmental protection (e.g. oil barriers), in industrial and agricultural production (e.g. conveyor belts, sealing for gate systems etc.), in the field of regenerative energies (biogas membranes) and as roofing material in trend-setting, modern architecture.

Heytex is also present in sports, e.g. with anti-slip mat cover materials. The innovative double-wall fabric made by Heytex is not only used in sound insulation and flood protection applications, but also as mesh fabric for inflatable surfboards and air tracks.

All coating technologies: It goes without saying that Heytex stands for exclusive material properties, high practical suitability and numerous possibilities of application - with optimal permeability values, the best possible resistance to oil, chemicals, salt water or manure and optimal durability.

Heytex masters all modern coating technologies from high-quality spread coating to 5-m-wide melt roll coating calander processes and fabric lamination. With customer-specific (further) developments for special requirements, Heytex is able to offer the best individual solution to every customer.

Heytex shows this competency in Orlando in a way that cannot go unnoticed: a gas storage container and an enormous air-filled "AirTrack" made of double-wall fabric are the visual centre of the stand.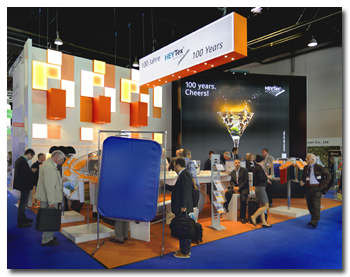 Advertisement