ITEMA Weaving
Switzerland
Hall 3, Booth C131-132
ITEMA Weaving, with the established brands of Sultex, Vamatex and Somet, is set to present its latest innovation in technology at ITMA 2011 in Barcelona. ITEMA Weaving plans to exhibit its new Sultex A9500 Air Jet and the Vamatex Silver 501 Rapier Weaving Machines for the first time at ITMA Barcelona.
Both the A9500 and Silver 501 boast a completely new electronic platform. ITEMA Weaving will introduce the "Loom Browser", a software package that allows the customer quick & easy access to monitor efficiency, stop levels, change & download machine settings and/or create and download weft & dobby patterns. Further, this new platform offers real time Remote Diagnostic Support. Simply connect to the internet to access ITEMA's World Wide Service Network for professional technical support.
ITEMA Weaving is the only company to produce weaving machines with the three leading weft insertion systems providing: the right weaving technology for every application. Together, Promatech Italy, ITEMA Switzerland and ITEMA Weaving Machinery China are the world's #1 weaving machinery manufacturer, with more than 300,000 machines in operation worldwide.
Exhibition Program
The new Sultex A9500 Air Jet Weaving Machine
With its high performance and simplified design, the Sultex A9500 air jet weaving machine sets new standards for productivity and operational simplicity. No compromises were made during the design. The A9500 produces excellent fabric quality; its minimal air consumption is unrivaled. Distinguished from the competition and unique in concept, the machine is equipped with a special shed geometry designed to promote a long dwell while drastically reducing air consumption. The long weft insertion time and the high efficient nozzles insure the optimum acceleration curve for any type of yarn. The new electronic platform, through its large, full color touch screen display offers new functionalities and opens the doors to an efficient dialogue with the ITEMA Service Network. The Sultex A9500 air jet weaving machine is best suited for medium to heavy Denim, colored weaving and sheeting applications.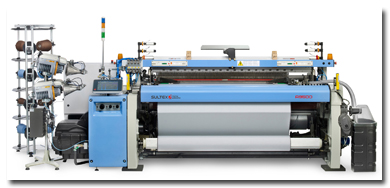 Advertisement