James Heal
United Kingdom
Hall 2, Booth B114
Between 22-29 September, visitors to ITMA Barcelona 2011 will have the opportunity to view James Heal's latest technological innovations in physical and colourfastness testing - with a showcase of laboratory testing instruments which include two brand new product launches, in Hall 2, Stand B114.
The leading instrument manufacturer is promising an exciting showcase of products from their range of textile testing instruments for physical and colourfastness testing: their groundbreaking Martindale 900 Series for abrasion and pilling testing, their TruBurst burst strength tester plus their Elmatear digital tear strength tester. In addition, they will be launching two new instruments which represent the next generation in textile testing, with true ingenuity and value for the market. They will also have dedicated displays for their range of high quality Test Materials products, and visitors can find out more about the benefits of maintaining their instruments through regular Service and Calibration for improved performance.
Since last Summer, the company has been working on a strategic re-branding initiative to enhance the look and feel of their brand identity whilst also making significant improvements to their product development and engineering processes, and a new website which is due to launch in August. James Heal's Owner and Managing Director, David Repper, explains:
"The challenge was to capture our 139-year heritage and create a modern brand that can operate and be recognised internationally to deliver the sophisticated product and service that James Heal represents today: Innovation, Leadership, Integrity, Precision and Pedigree."
Repper continues: "It's a combination of our expertise and innovation that drives new product development to enable us to better meet customer needs. Personally, I'm very proud to be leading the Company through such an exciting period of change and success!"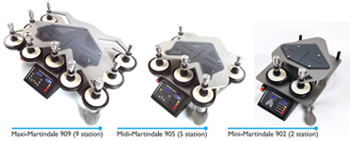 Advertisement