Trützschler Nonwovens
Germany
Hall 2, Booth: B131
Trützschler Nonwovens will be showing its latest innovations in Man Made Fibre and Nonwoven Machinery at the ITMA, which is the most important exhibition for Trützschler Nonwovens.
In addition to many new innovations, which are particular to increase productivity while reducing energy consumption, we introduce two revolutionary new machine developments:
Streamliner
During the ITMA 2011 exhibition in Barcelona Trützschler Nonwovens GmbH will present for the first time the "Streamliner", its latest development of a new drum dryer generation.
The new dryer generation achieves specific evaporation capacities going far beyond the commonly achieved values. For our customer this means a significant increase in productivity.
The energy efficient machine design features an optimized airflow with low pressure loss, an optimal fresh air supply using the temperature-dependent density change, as well as a heating system with optimized flow technology. In addition, energy efficiency is increased by external air treatment and possibilities of heat recovery.
With this innovative web drying system Trützschler Nonwovens has set the benchmark for this market segment.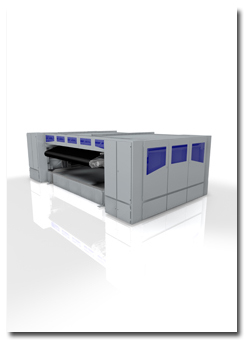 Crosslapper
The increased requirements for throughput and availability have led to ever increasing line speeds in the past.
To be able to use the carding speeds available today, it is necessary to increase also the performance of downstream equipment. In particular the crosslapping lines are operated at the limit of their capacities, limits which are, if at all, difficult to be pushed with conventional technology. However, we have succeeded to overcome these limitations with our new crosslapper EKLB439 both in terms of productivity as well as in terms of quality.
New solutions secured by patents provide the basis for this breakthrough. Apart from the new fleece guidance this includes the mastery of dynamic factors influencing the process materials and the machine.
In its present position, Trützschler Nonwovens is able to meet any future challenges of the nonwoven market. Their continued business success is based on a clear focus on the market, the end products and the customers.
Advertisement