Xorella AG
Switzerland
Hall H1, Booth A104
Ecological and economical steaming solutions
Water and energy availability as well as its ever rising prices are a continuously growing concern in the textile industry world wide. To contribute to economically optimal as well as environmentally sound steaming and conditioning machines and processes Xorella has developed and further improved a range of EnviroTec solutions.
Ecological vacuum technology
Conditioning and steaming machines of all makes commonly use vacuum pumps based on the old fashioned water ring technology to evacuate air and steam from their vessels. Taking into account that depending on the textile good to be treated various vacuum cycles have to be conducted converts the use of water, for cooling and sealing the pumps, into an important cost driving factor.
Despite the fact that in certain regions water availability and its cost is not a problem yet our customers become more and more aware of the importance of saving water. Accounting to this ever increasing demand of ecological solutions Xorella has developed the XO-EcoPac & XO-EcoPac HT. The XO-EcoPac water free vacuum system is based on a high tech low consumption dry vacuum pump with less than half the installed power than conventional water ring pumps.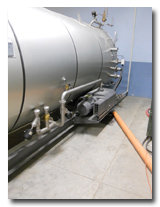 No need to waste water
Figure 1 shows the enormous amount of water wasted in a conditioning process. In the case of high temperature steaming for heat-setting the figures are even higher due to the fact that more steam has to be evacuated and a final vacuum for drying purposes is being done.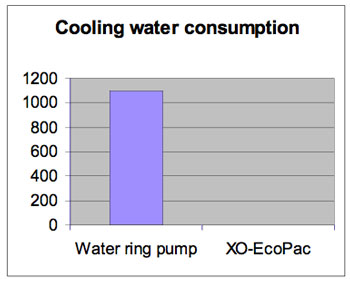 Advertisement