Techtextil 2013 Exhibitor Preview: Stäubli/Schönherr
PFAFFIKON, Switzerland - April 8, 2013 - Stäubli is a leading global supplier of shedding systems for weaving machines and weaving preparation systems. The Textile division includes Group member Schönherr, well known for its ALPHA 400 and 500 series weaving systems.

When it comes to fabrics used in textile surfaces, one can safely assume that Stäubli machines have been used in the production of most materials produced worldwide. With core competencies in the areas of shed formation (dobbies, cam motions, and Jacquard machines) and weaving preparation (warp drawing-in and tying machines), Stäubli carries a significant share of the responsibility for the design and quality of the end products. Key factors here are a full century of experience in the classical textile industry plus the continual development and perfecting of high-performance machines, including those for manufacturing technical textiles. For example, Stäubli has been supplying the highly versatile UNIVAL 100 Jacquard machine to customers for over ten years. Thanks to the individual thread control of the UNIVAL 100, technical textiles can be manufactured with previously unimaginable properties in the wide variety of parameters, tested, and optimized until they fully meet all requirements and specifications. Manufacturing perfect fabrics requires not only flawless shedding but also perfect warp preparation, at which Stäubli machines excel.

Stäubli and Schönherr have optimized and perfected their machines for the production of a wide variety of textiles. Today many manufacturers use these machines for technical textiles such as geotextiles, carpet backing, tyre cord, fabrics for parachutes, fire protection or weather protection sheets, paper machine clothing, airbags, and many other types.

On Exhibit at Techtextil
At its booth at Techtextil Stäubli will present a selection of technical fabrics that have been produced on various textile machines in conjunction with Stäubli products such as dobbies, Jacquard machines, warp drawing-in or tying equipment, and of course Schönherr weaving systems.

Two particularly useful machines for producing technical textiles on exhibit at the Stäubli booth are briefly described below. The Schönherr weaving machines ALPHA 400 LEANTEC, ALPHA 500 TECH, and D_TECH are well suited for producing technical fabrics but are too large to demonstrate at the booth. Instead, fabric samples will be shown and detailed information provided about the performance and new advancements of these machines.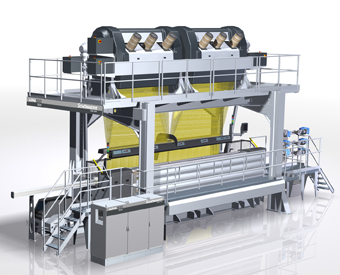 Advertisement